TEXT OF THE GREAT PROMISE OF THE HEART OF MARY, IN THE
APPARITION AT PONTEVEDRA, SPAIN.
On December 10th, 1925, the Most holy Virgin appeared to her, and by her side, elevated on a luminous cloud, was a child. The most holy Virgin rested her hand on her shoulder, and as she did so, she showed her a heart encircled by thorns, which she was holding in her other hand.
At the same time, the Child said:
"Have compassion on the Heart of your most holy Mother, covered with thorns, with which ungrateful men pierce it at every moment, and there is no one to make an act of reparation to remove them."
Then the most holy Virgin said: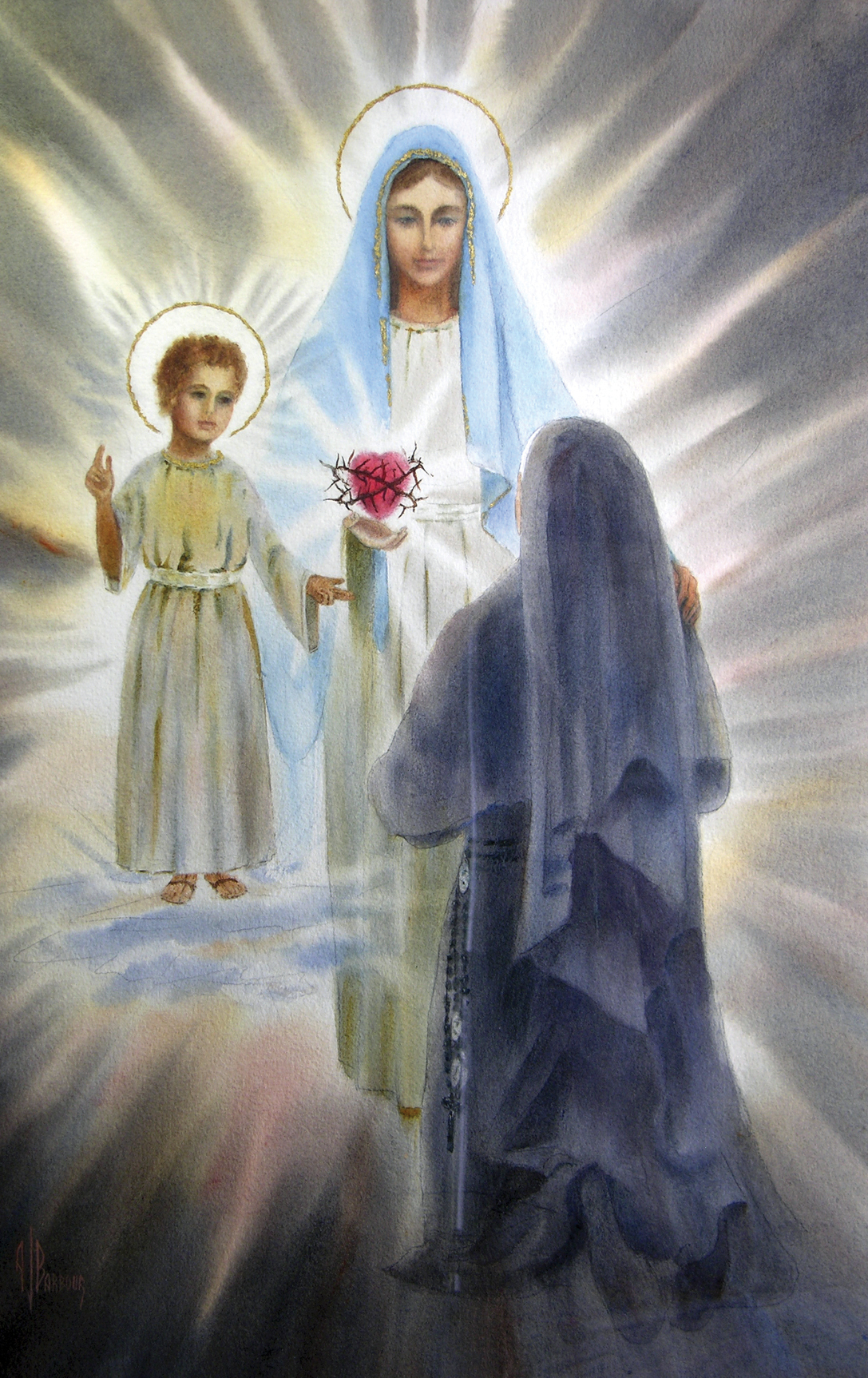 "Look, my daughter, at my Heart, surrounded with thorns with which ungrateful men pierce me every moment by their blasphemies and ingratitude. You at least try to console me and say that I promise to assist at the hour of death, with the graces necessary for salvation, all those who, on the first Saturday of five consecutive months, shall confess, receive Holy Communion, recite five decades of the Rosary, and keep me company for fifteen minutes while meditating on the fifteen mysteries of the Rosary, with the intention of making reparation to me."
On February 15th, 1926, the Infant Jesus appeared to her again. He asked her if she had already spread the devotion to His most holy Mother. She told Him of the confessor's difficulties, and said that Mother Superior was prepared to propagate it, but that the confessor had said that she, alone, could do nothing. Jesus replied:
"It is true that your Superior alone can do nothing, but with my grace, she can do all."
She placed before Jesus the difficulty that some people had about confessing on Saturday, and asked that it might be valid to go to confession within eight days. Jesus answered:
"Yes, and it could be longer still, provided that, when they receive Me, they are in the state of grace and have the intention of making reparation to the Immaculate Heart of Mary."
She then asked: "My Jesus, what about those who forget to make this intention?"
Jesus replied: "They can do so at their next confession, taking advantage of the first opportunity to go to confession."
Some days later, Sister Lucia wrote down a full account of this apparition, which was sent to Msgr. Manuel Pereira Lopes, afterwards Vicar General of the Diocese of Porto, who had been Lucia's confessor during her stay at War do Oporto. This unpublished document was inserted by Rev. Dr. Sebastian Martins dos Reis in his book entitled: "A Life in the Service of Fatima" cf. pp. 336-357.
On the 15th (of February 1926), I was very busy at my work, and was not thinking of this at all. I went to throw out a pan full of rubbish beyond the vegetable garden, in the same place where, some months earlier, I had met a child. I had asked him if he knew the Hail Mary, and he said he did, whereupon I requested him to say it so that I could hear him. But, as he made no attempt to say it by himself, I said it with him three times over, at the end of which I asked him to say it alone. But as he remained silent and was unable to say the Hail Mary alone, I asked him if he knew where the Church of Santa Maria was, to which he replied that he did. I told him to go there every day and to say this: O my heavenly Mother, give me your Child Jesus! I taught him this, and then left him.
On the 15th of February, 1926, going there as usual, I found a child who seemed to me to be the same one whom I had previously met, so I questioned him:
Did you ask our heavenly Mother for the Child Jesus?" The child turned to me and said:
"And have you spread through the world what our heavenly Mother requested of you?" With that, he was transformed into a resplendent Child. Knowing then that it was Jesus, I said:
"My Jesus, You know very well what my confessor said to me in the letter I read to You. He told me that it was necessary for this vision to be repeated, for further happenings to prove its credibility, and he added that Mother Superior, on her own, could do nothing to propagate this devotion."
"It is true your Superior alone can do nothing, but with my grace she can do all. It is enough that your confessor gives you permission and that your Superior speak of it, for it to be believed, even without people knowing to whom it has been revealed."
"But my confessor said in the letter that this devotion is not lacking in the world, because there are many souls who receive You on the First Saturdays, in honor of Our Lady and of the Fifteen Mysteries of the Rosary".
"It is true, my daughter, that many souls begin the First Saturdays, but few finish them, and those who do complete them do so in order to receive the graces that are promised thereby. It would please me more if they did Five with fervor and with the intention of making reparation to the Heart of your heavenly Mother, than if they did Fifteen, in a tepid and indifferent manner…"
The Essential Elements of this Devotion
With the intention of making reparation to the Immaculate Heart we are asked to:
Go to confession (Can be within 8 days before or after the First Saturday).
Receive Holy Communion.
Pray five decades of the Rosary.
Keep Our Lady company for 15 minutes while meditating on the mysteries of the Rosary.